✓ Satisfaction Guarantee
✓ Free Quotes
✓ Reliable & Fully Insured
Concrete Paver Cleaning Sunshine Coast
Mildew, moss, and weeds can build up in the joints and pores of your concrete pavers. When left alone, they can cause problems with the overall integrity of your pavers and cause them to lose their lustre. Sunshine Coast Pressure Cleaning Group offers a deep cleaning process designed to thoroughly clean these hard surfaces and bring them back to tip-top condition. Our team of paver cleaning specialists knows how to apply the right pressure when doing their job. We set the standard in professional concrete paver cleaning Sunshine Coast. We use state-of-the-art tools, equipment, and proven techniques to ensure our customers get the best results.
Residential Concrete Paver Cleaning
Concrete pavers are designed to withstand the harsh elements of the outdoors, but that doesn't mean they should just be left alone. Over time, dirt and organic growth will accumulate on their surfaces, which can make them look old and unappealing. To restore your pavers, we apply a solution that's proven to be effective in breaking down any buildup. We then use a light water wash to rinse and remove gunk from your ground surfaces. Our thorough cleaning method will ensure that your residential property is safe and functional for your family.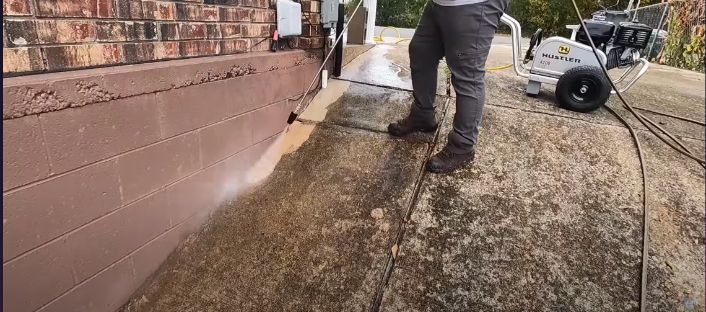 Commercial Concrete Paver Cleaning
Commercial concrete pavers are a magnet for the worst kind of dirt. Gunk, chewing gum, and other unsightly blemishes can bring down the curb appeal of these areas. Furthermore, mildew and growth built up on the pavers can become slippery when wet, putting not only staff but customers at risk.
Sunshine Coast Pressure Cleaning Group offers concrete paver cleaning to commercial establishments looking to revitalise their pavers. Our cleaning team will leave your business looking fresh while making it a safer place for your customers.
Commercial Industries We Service
These are the main commercial industries we serve:
Welcome To Sunshine Coast Pressure Cleaning Group